January 28
Over a leisurely breakfast, we discussed the most difficult part of the entire trip, getting to our prepaid 5-day Amazon adventure at a lodge located two hours downriver from Iquitos, Peru. 
First, today we would to take a long taxi ride from Salento to another town in the coffee region, Pereira, where we'd be staying tonight. Pereira is a much larger town than Salento and has an airport. From there, we'd catch a very early morning flight the next day to Bogota, then transfer to a flight to the small Amazon town of Leticia, Colombia, arriving around noon. Easy enough, but once in Leticia things would start to get a little dicey. 
Leticia is a border town where Colombia, Brazil, and Peru all meet along the Amazon River, an area known as Tres Fronteras. Once we arrived, we'd have to traverse all three countries, go to multiple offices, and get a lot done that afternoon before the various offices closed—which we were told could be as early as 3:00. If we didn't finish on time, we'd be delayed by one to three days, and would have to reschedule our Amazon expedition.
The afternoon would go something like this: First, we'd have to get to Colombian immigration at the Leticia airport to get an exit stamp. Hopefully the lines would not be long. From there, we'd take a taxi to our tiny hotel to drop off our bags. Next, we'd walk or take a three-wheeled tuk-tuk and kind-of sneak into nearby Tabatinga, Brazil, where the office is located for buying tickets for a boat the next day to Iquitos, Peru. We'd heard there was no official border crossing between Leticia, Colombia and Tabatinga, Brazil but we should at least have our passports and Covid vaccination cards at the ready. From Tabatinga, we'd then need to walk or take a tuk-tuk back across the border to the Leticia, Colombia town dock. Once there, we'd take a small boat to a floating dock in the Amazon River to check into Peruvian immigration near the island of Santa Rosa, Peru. This had to be done that same day because the office would be closed when the boat to Iquitos, Peru departed early the following morning. Oh, and we'd been warned that we'd need to keep an eye out for scammers at the boat dock who take people to the wrong place and double charge to get them to where they asked to go in the first place. Once at Peruvian immigration, we'd undoubtedly run a gauntlet of immigration/Covid red tape. Afterwards, we'd take another small boat back to the Leticia town dock. Then we'd somehow need to get some Peruvian money, perhaps by walking or taking another tuk-tuk to a money exchange in Leticia before, finally, making our way back to our hotel in Leticia. Confused? Us too. 
And then there was the biggest unknown—the boat to Iquitos. Neither the Internet nor the Amazon River tour company where we'd be staying in Peru could tell us with any certainty if the boat would be running on the day we needed it, or even how long the trip was. We'd read and been told that the boat left at 2:30 am, or 3:00 am or 6:00 am, took six, eight or twelve hours, and might be a large modern ferry or a small sardine boat or there may be no boat at all for a day, or two, or three. Once there was a boat, it would depart from the island of Santa Rosa, Peru. Getting to it meant waking up as early as 1:00 am, getting a tuk-tuk (if we could get one in the middle of the night) or even walking with our luggage in the dark for a half hour back to the dock in Leticia, and then taking a small boat (again, if we could get one) to Santa Rosa. Online comments were all over the place, mostly too old to be of any use and nearly all confusing.
If there was no boat that day, we'd have to return to Peruvian immigration at the dock to get our passports stamped out of the country, then return to Colombian immigration at the Leticia airport to get our passports stamped back in (after checking out, immigration allows you to remain in that country only for 24 hours before you must check back in). And the next day (or two or three) we'd need to rinse and repeat by stamping out of Colombia and into Peru yet again. Of course we'd also arrive one, two, or three days late at the lodge in the Peruvian jungle for our Amazon adventure. The lodge said they would work with us if something went awry and we arrived late, but it might not be possible to reach them. We'd been told the tri-border area had little or no Internet to help. What could go wrong?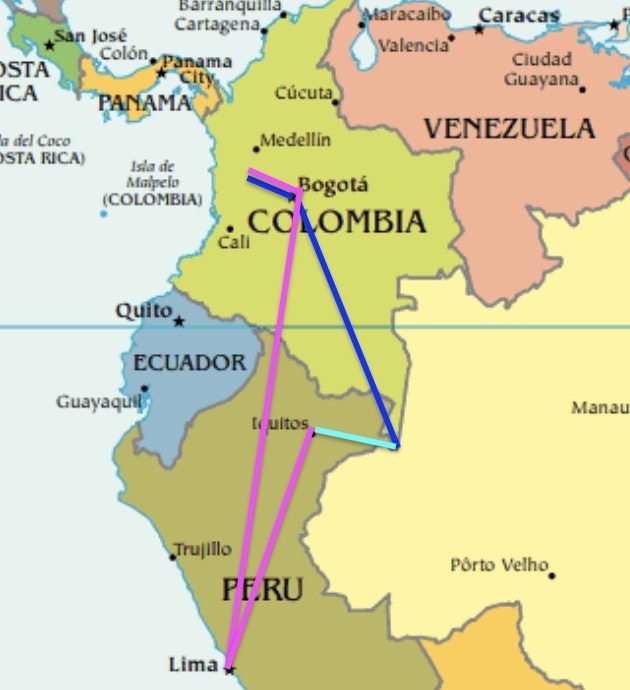 After breakfast, we returned to our room and packed up our things. Then, as we sat on the bed in the chilly room waiting for our ride, Susan decided to look into flights direct to Iquitos, Peru just in case our tight schedule proved impossible or if we couldn't get a timely boat. At least we had Internet here. She  quickly found that there was no easy, fast, or cost-effective way to fly to Iquitos from where we'd be staying tonight in Pereira. Flying meant taking a short flight east to Bogota as planned but then taking a long flight south to Lima, Peru, then another flight north again to Iquitos, on two different airlines and with long layovers between flights. 
The clincher was that because the Bogota to Lima flight would be between countries it would be far more expensive—US$600 more than the planned flights plus the boat trip. Each.
So, we decided to keep our expectations low, let the universe guide us, and follow our original plan to try to catch the phantom boat. Worst case, we'd be stuck for a while in a small jungle town on the Amazon River in Colombia. Or was it Brazil? Or was it Peru? We had lots of DEET.
We wandered over to the front of the hotel to wait for our taxi, taking in the views of coffee hills from there one last time. Our taxi arrived a little before 11:00 am and took us on the hour-long ride to Periera. 
Our hotel in Pereira was way nicer than we'd expected. . . especially since it cost just US $38 for the night. It was a refined, older boutique hotel with an elegant spiral staircase and murals, right across the street from a huge and creepy-looking Catholic church. Maybe best of all, we had lots of hot water for showers.
Once settled, we took our clothes to a nearby laundry to have them washed, then we walked around the bustling city of 700,000. The weather was perfect, reminiscent of Medellín, with temperatures in the upper 70's and lots of sunshine.
In fact, Pereira looked somewhat like a smaller version of Medellín, with mountains all around and even a cable car like its big brother to the north. "Medellín Lite," we called it. 
A Colombian soccer game was playing in nearly every restaurant and bar, making it hard to find somewhere to eat with any room. They were also incredibly noisy, with TV's blaring and crowds cheering.
We settled on a Mexican restaurant that didn't quite get how to make Mexican food but at least provided large portions of a Colombian version of burritos and tacos. After dinner, we picked up our clean clothes and returned to our classy hotel.
The hotel staff were amazing. They offered us an early breakfast-to-go and said they'd have a taxi waiting at 5:15 am to take us to the airport. The next day would be our most difficult.