February 14, 2021
The wind blew all night but we were snug in the truck and protected enough not to get too much dust inside. The morning was chilly and the sun seemed to take forever to climb over the high canyon walls.
But as the sun worked its way up, the effect was spectacular–similar to the firefall effect at Yosemite's Horsetail Falls. The firefall there occurs, at best, for a few days in late February–but only if there's a clear sky at sunset, enough recent snow and warm enough temperatures to melt it. 
Rather than trekking through snow and joining the crowds at Yosemite for that event, we'd stumbled upon a secluded spot tucked away in a canyon where we could enjoy our own private view of hot pink sun running down a rocky hillside. We also had a view of a "burning bush" on the hillside.
We decided to head into the little town of Mecca, about 20 miles away, for coffee and exploration. Mecca was said to be very much like a small Mexican town (we were about 75 miles from the Mexican border) and we missed Mexico. After coffee, we stopped at a small roadside store that was jam-packed with men buying flowers, balloons and gifts for their wives and sweethearts—exactly as we would have seen in Mexico. 
We'd be visiting with friends at their timeshare in Palm Springs over the next few days so we picked up some dates and other produce to bring them. The region is known for its dates and there were several varieties but after seeing the confused look on our faces, the proprietor schooled us on dates and we selected some Barhi dates because he said they were the sweetest (and most expensive). As we discovered when we tried them later, he was right–they were incredibly sweet and even tasted a bit like butterscotch.
Leaving Mecca we drove northwest toward Palm Springs, which is just 45 minutes away. We weren't meeting our friends until later so we decided to take a detour before heading into the town. A colorful train raced alongside us as we started out.
Our 2 ½ hour detour would take us on Highway 74 up into the San Jacinto Mountains west of Palm Springs before eventually looping back to the interstate where it's an easy drive back to Palm Springs. On our map Highway 74 was full of squiggles, so our expectations were high. 
Many years ago, Susan had taken the Palm Springs Aerial Tramway up to near the top of San Jacinto Peak and recalled beautiful, if chilly, mountain trails there. The Tramway was closed due to Covid, so Highway 74 it was.
The road began with many steep switchbacks as we passed through high desert scrubland. We stopped and hiked a long nature trail that brought us down the mountainside and to overlooks with stunning views deep into the mountains.
Highway 74 climbs steeply from the Coachella Valley floor through places like Pinyon Pines, Mountain Center and Idyllwild, where the hot temperatures of the desert drop 30 degrees with the elevation gain and the sun is filtered through the canopy of pines. 
Some of the small mountain towns were obviously places where Palm Springers come when they want a change of scenery and we could imagine (pre- and post-Covid) motorcycle rides, music festivals, and dinner getaways away from the heat of the valley.
After a long drive down from the mountains, we found ourselves back in Palm Springs. We met up with our friends, Rhonda and Ti, and we all took a leisurely walk the mile or so from their timeshare to the center of town. While I find some of the town pretentious and overly landscaped, there's no denying its charms.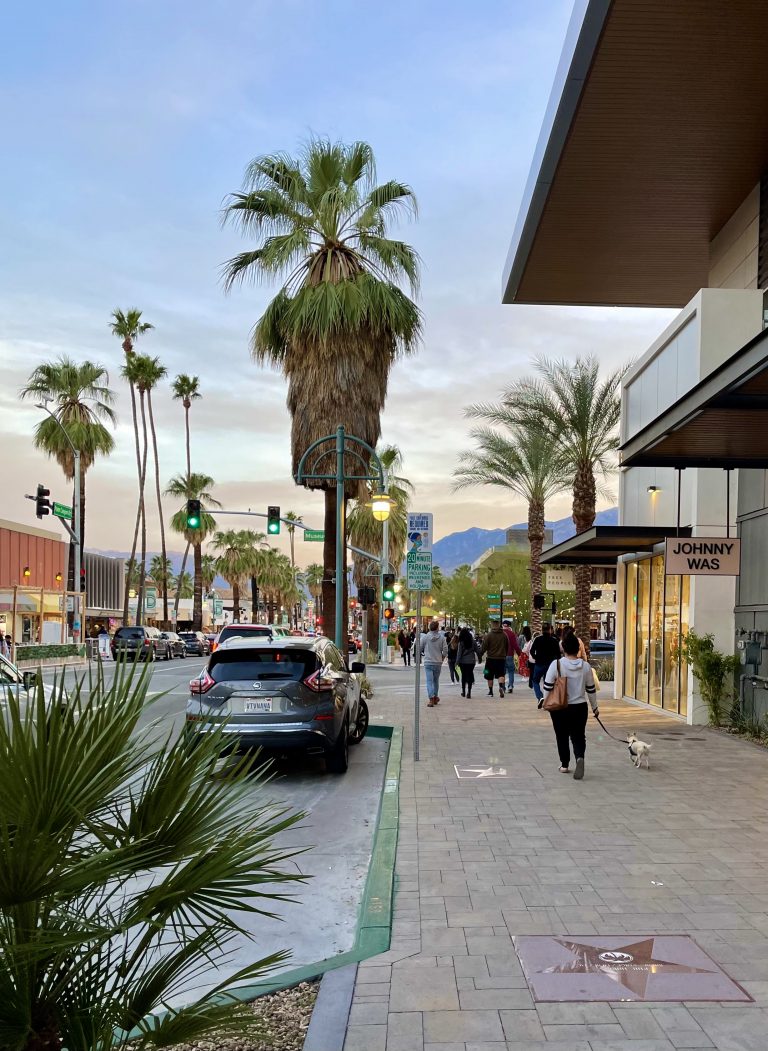 The downtown area especially is great for walking with many restaurants and small shops and boutiques, and the locals and visitors seem friendlier than most. There were a surprising number of people wandering about and filling up the many outdoor bars and restaurants. It was the most pre-Covid feeling place we'd been to yet and it gave us hope that the country and the world were on the mend.
Our friends had plans with family for the evening, so we strolled back into town at dusk and found a lovely Mexican restaurant with outdoor seating where we had a Valentine's Day dinner.
The next morning, we had an unexpected visit with our daughter who happened to be en route home to L.A. from a backpacking trip in Utah. Palm Springs required only a brief detour for her.
We spent the next couple of days with our friends touring the mid-century modern homes in the town and exploring the nearby hills.