February 11, 2020
Last night we both slept really well – like nine or 10 hours well. Susan recently added a two-inch memory foam top to the mattress and it was very comfortable – nearly as comfortable as our bed at home, if smaller. With the windows cracked it was chilly, but the wind had abated and we warmed up fast.
I'd read that the road south from San Felipe had large sections of poor dirt roads, the kind you have to crawl along at five or 10 mph. But after several miles we realized that the road was brand new. It turned out that the bad parts had just been paved, though in most spots there were no more than six inches of shoulder. One wheel off the pavement would mean damage to the truck for certain and probably much worse (though we might be saved by running into a bunch of tires). Hence, I paid extra attention to the road. Newly paved or not, it had few signs, no guard rails and a few bridges that still needed some work, requiring a detour through a sandy wash. Those required a sometimes-instant slowdown (with no warning signs beforehand) and then a quick turn off and a half-mile jolting scramble to the other side as sample of what the old dirt road was.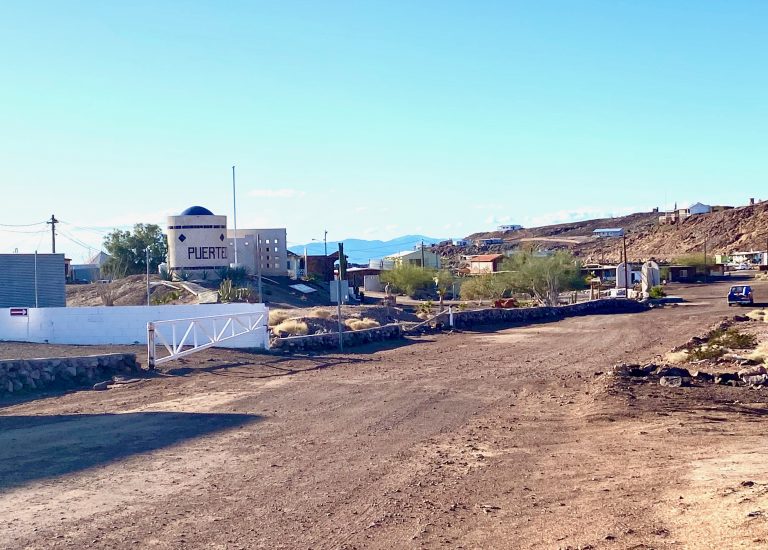 The road eventually wound away from the sea and into the backbone mountain range of the interior. It was rare to see any other cars on this road—perhaps because even the online maps and GPS indicated that the road was still unpaved. We detoured briefly through the tiny town of Puertecitos. We had read it was known for hot springs and was worthy of a stop. We quickly discovered that the town barely existed anymore—nearly wiped out by a destructive hurricane not long ago.
Dry deserts spotted with a dozen different kinds of cactus painted a picture out the windows. We stopped a lot for photos. And we stopped a lot for military. Maybe half a dozen times in one day we hit a military checkpoint where heavily armed and bored soldiers asked where from and where to and wanted us to open one door to peek inside. Only one asked for money (the agricultural inspector wanted a "donation" for us to drive through a sprayer that "killed the bad things." We declined and he shrugged.
Eventually, after crossing the mountains we found our way to the Pacific coast and the small town of Guerrero Negro. I was surprised how much I liked the town; very much not a tourist town though we saw several campers and overlander types.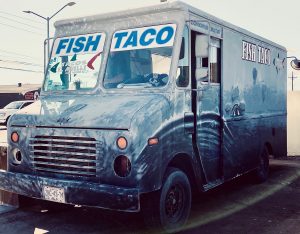 We stopped for the best fish tacos (El Muello) and at a paneria where the usual assortment of bland Mexican pastries all taste the same. We filled up, yet again (at about US$4/gallon, which was typical) and bought our first purified water (US$.20 for 5 gallons!)..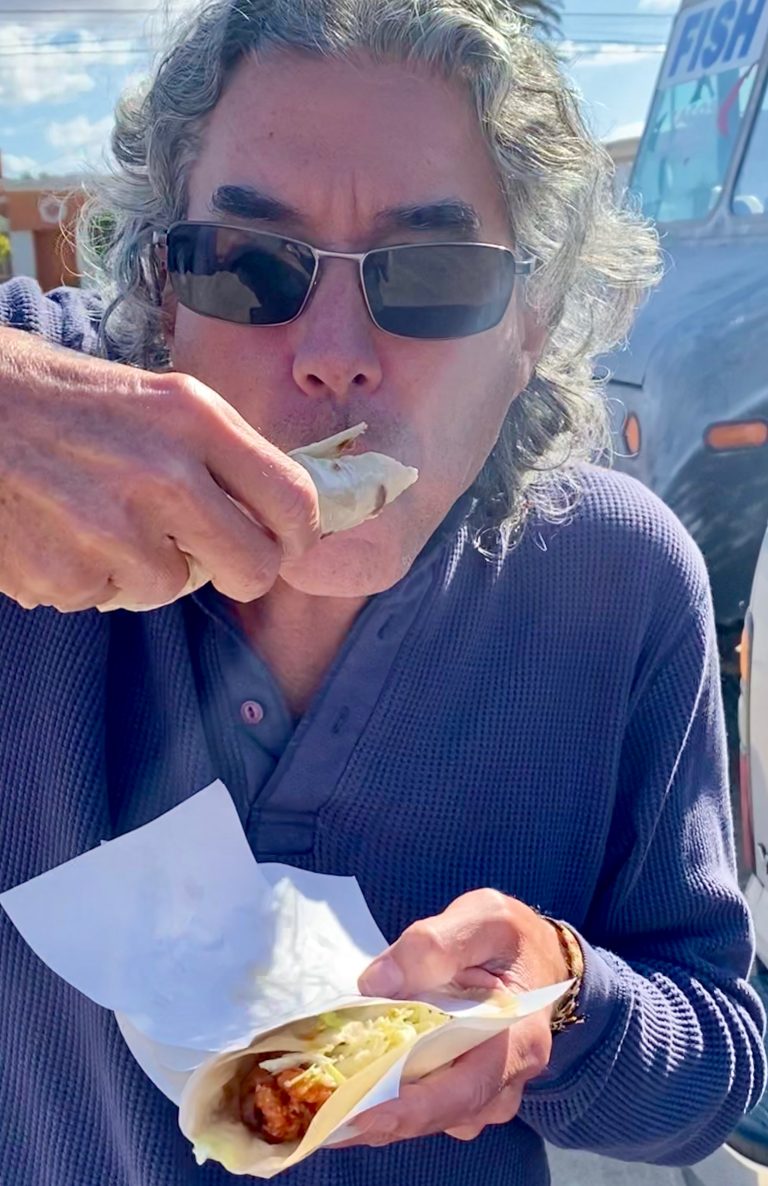 The road south stayed its usual paved and tolerable self until we turned and drove on 20 miles of dirt through an enormous salt evaporation field and past a guard shack (who's stealing salt?), where we reached Laguna Ojo de Liebre and paid US$5 to camp. The wind was strong, which made it difficult to cook on our propane camp stove, so we paid an extra five bucks to rent a palapa, which got us out of the constant wind. It was a treat to cook inside a structure for once. The highs had only been in the 60s since we arrived and the wind could feel downright cold. Another Baja surprise.