February 12, 2020
We decided to leave the next morning. Not that there was anything wrong with where we were. In fact, the palapa was large and windproof. But we were itching to get south so we walked to the tiny restaurant and ordered coffee and huevos rancheros – US$5. There were several people waiting for the whale watching boats to go out and they were very excited. We decided to skip the tour and take one later on the trip, on our way back north (as we discovered later, we'd be delayed in doing so by unexpectedly strong wind).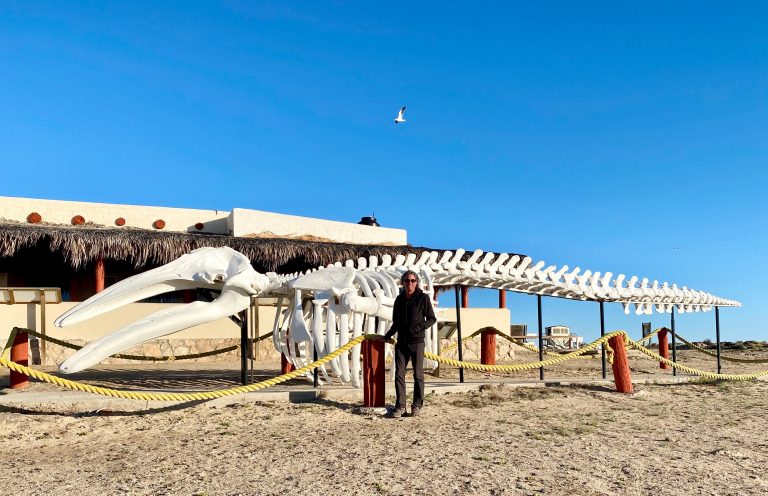 During the night, nature called and I stepped out away from the campground. The wind had lessened and it was chilly but not so cold as before. Half the night sky was lit by the partial moon that threw as much light as any normal full moon. I was just thinking that I was disappointed that I didn't hear coyotes howl during the night when I heard a whoosh, followed by another, then more. Whales! Close enough to shore that I could hear them breathe. I felt like I was in a fantastical place where the sky lit up at night, the ocean-scented wind never stopped and whales came near shore to spy on humans. I shook my head. We had to drive miles of dirt road through a salt farm to get here but there was nowhere like it on earth. Good job, I thought. This is what we want.
After leaving the restaurant, we met Nancy from Oregon, an older woman traveling by herself. As we walked by, we could hear her humming as she gently rocked in a tiny chair. She smiled and said hi so we stopped to chat. She assumed we were on vacation because she said we looked so young but we told her we were on an open-ended trip. She spoke softly and smiled non-stop as we said goodbye; we hoped to run into her again.
The main Baja road, Highway 1, has no choice but to cross the backbone of the peninsula several times and we started across it again heading southeast. A good road with narrow shoulders and more traffic (though still hardly any) wound up and around hills and valleys, the engineers preferring to let the road follow the dips and undulations of the land rather than tame it with brute force as in the US. There were far fewer tires, either because there were less people than to the north (likely) or because someone cleaned up the carcasses (most unlikely).
There were several military checkpoints that we breezed through. Except one. This time, they did a quick search of the truck in front of us, and motioned us next. I stepped out as requested, they asked me to open the doors, and they poked through a few things.
Then they opened my bathroom bag and I froze. A vape with a small cartridge is usually kept in my bag, stored in the rooftop carrier. They've never looked up there, but this time I had simply thrown my bag into the back of the truck on the bed. The stern military officer, surrounded by others even more heavily armed, found it in my bag and presented it to me. Whose?, he wanted to know. Mine, I said. CBD, I said. He grunted.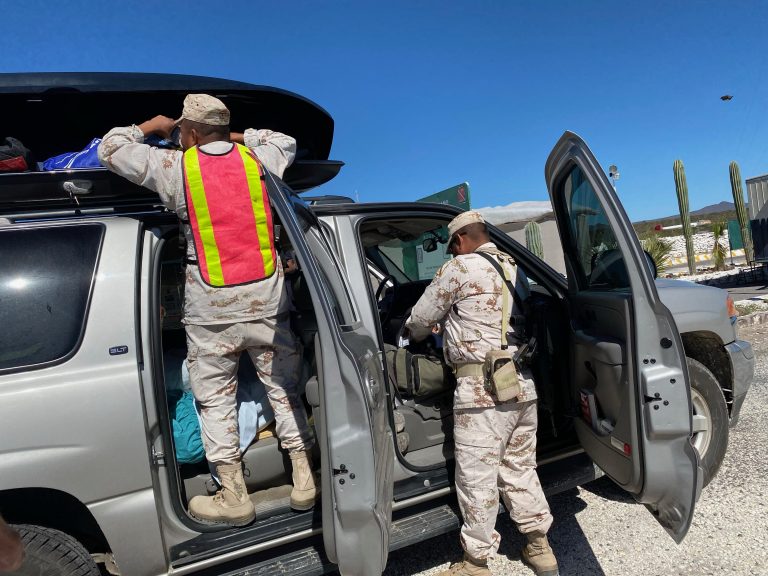 Then two of them proceeded to tear apart the inside of the truck, looking everywhere, opening everything, hoping to find more. They asked me to open the cooler, the food containers, rooftop carrier, they looked through clothes, glove box, console, asking, more? No, we said. Solomente eso. They kept digging, asking for passports and where was there more. I was thinking that this could be very expensive (what's the price for freedom on this day?). Susan (in her worst Spanish, hoping that would help) pointed to her wrist wrapped in a support for a recent sore thumb and said she had a prescription for the vape. The officers glowered and repeatedly said CDB is illegal. I was asked to empty my pockets, all the while the vape pen was being held by one of the officers. One officer sniffed the cartridge, but apparently couldn't tell what the cartridge contained. Another ran his fingernail along my pocketknife blade and sniffed, apparently looking for the scent of other drugs. I stood awkwardly and figured the longer this took, the more expensive it would be. I was asked for my driver's license and it was copied down along with our license plate. This worried me not very much because I was pretty sure that information would stay only on the clipboard. Computers, let alone internet, were in short supply in Baja.
Other people who were waved through the checkpoint looked at the poor gringos with four men going through their truck. Finally, the jeffe handed Susan the pen. She asked if he should take it, and tried to hand it back to him. No. We were done. Suddenly dismissed, we got back in the truck, waiting for someone to ask us where the hell we thought we were going. But they didn't. I started the truck and slowly drove off, wondering why they handed us back the evil vape pen. We nervously laughed and looked at each other. A half mile away, around a bend, we stopped to survey the damage. Everything was out of place. We spent a few minutes reorganizing, Susan cursing the guy who went through her underwear and misaligned her carefully made bed. But we figured we dodged a pretty big bullet. And we'd find a better hiding place. We soon learned that neither CBD (nor THC) was technically illegal and in fact the Mexican courts were removing any enforcement teeth.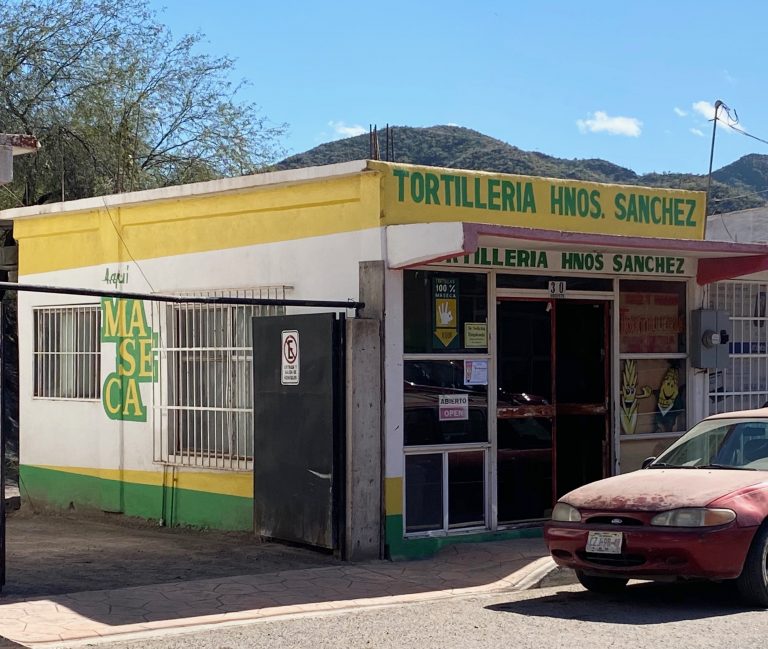 Soon after, we drove into the small town of Mulege only to confirm that as described to us, it's a nightmare to drive thorough with tiny streets at all angles, some ending nowhere. Not a good place for a large truck. We stopped at a tortilleria and bought a half kilo of fresh tortillas for US$.75 and finally made our way back to the main highway through the dozens of one-way and narrow streets (followed by a local cop part way, which made me question for a moment my thought about computers and internet in Baja).
From there, the drive south was gorgeous, now with the Sea of Cortez on one side, backdropped by brown and gray islands, and more brown mountains to our right. Up and down, we zigzagged along the narrow road, sharing it with the occasional two- or three-trailer semi or a slow Toyota driven by a local. Finally, we dipped down to the sea and started to see the famed beaches of Bahia Concepcion, one after the other.
After passing a number of coves that were packed with RVs, we decided on La Perla. Windy again, we found a run-down palapa on the beach and whipped up a quick dinner of canned turkey chili and tortillas. The rest of the "campground" was full, with some RVs and some bros in their huge overlanders. It appeared to be free of charge. We walked all around the area and eventually went farther down the road away from the beach and found a perfect secluded camping spot, out of the wind but just a few feet above the turquoise surf on a small bluff. Much better, so we moved the truck to our new camping spot. We commented to each other on how when one of us wants to explore a bit more, the other is always game and it nearly always pays off. The surf lulled us to sleep.